Easy Homemade Basil Pesto Recipe
Basil pesto is so versatile, you can use it for everything from pasta sauce to a sandwich spread. It just makes everything better! And nothing beats a homemade recipe. But, don't worry, it's so easy to make, even lazy people like me are willing to break out the food processor.
Freeze it in an ice cube tray for easy individual servings.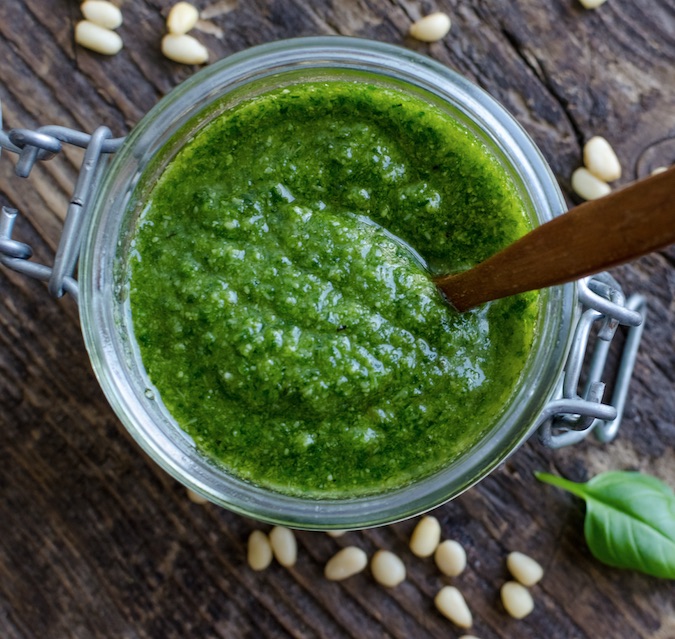 PrintEasy Homemade PestoServings: 2 cups
Ingredients
3 cups fresh basil leaves
1/2 cup extra virgin olive oil
1/2 cup freshly grated parmesan
1/2 cup pine nuts
3-4 cloves of garlic
1/2 tsp salt
1/2 tsp pepper
Instructions
In a high quality blender or food processor, blend everything together except for the olive oil, salt and pepper.
While still mixing, slowly pour in the olive oil (you may have to scrape down the sides a few times). Continue mixing until it's well incorporated.
Add the salt and pepper, and blend again for 5-10 seconds.
Store in the fridge for up to a week. Enjoy!
Recipe Notes
Freeze anything that you don't plan on using within a week in an ice cube tray (greased or lined with plastic wrap), and then transfer over to a freezer bag once frozen. This way you can thaw individual servings!
You can replace the pine nuts with walnuts, almonds or cashews if you would prefer.
To make it vegan, replace the parmesan with nutritional yeast (or simply leave it out).
How to use pesto beyond pasta? So many delicious ways.
Spread it on a sandwich or flatbread (or mix it with mayo)
Serve it as an appetizer spread with crackers and cheese
Mix it into ranch or Italian salad dressing to jazz them up
Toss it with veggies in place of butter
Spread it on toast topped with tomato slices and avocado
Mix it into sour cream, greek yogurt or hummus for an easy dip
Use it as a pizza sauce
Spread it on a quesadilla or grilled cheese
Use it to top steak, grilled chicken or even french fries
---
---